From power supplies and communication cards to mounting brackets and plates, Motion Plus offers a full complement of accessories for your motion component or system. We strive to make it easy for your to complete your motion system needs. If you can't find what you need to complete your design, please let us know and we will work on getting the additional products added to our site quickly. We want to be your first choice for all your motion control and machine design needs.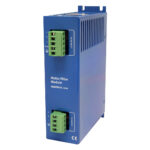 Electronic Filters
Electrical filters improve the reliability and performance of your motors and reduce damage to motor bearings caused by excessive high-frequency currents.  Our noise filter modules are used to reduce conducted line noise generated by PWM (Pulse Width Modulation) switching servo amplifiers.
Your Automation and Motion Control Resource
Read the Motion Plus blog to find technical information, assembly tips, and general help on common issues with actuators, controllers, integration, motion solutions and more. Our articles are written by engineers who are focused on helping other people in the industry build the best products possible and solve the latest challenges. Visit the blog and subscribe today.
Need Assistance or a Recommendation?
Motion Plus is comprised of a network of dedicated engineers. Our knowledge center provides technical support and answers to common questions not found elsewhere in the site. Or give us a call Monday – Friday, 8AM – 4PM EST at (888)-MOTION+ or contact us via email and we can help guide you to the best solution for your application.